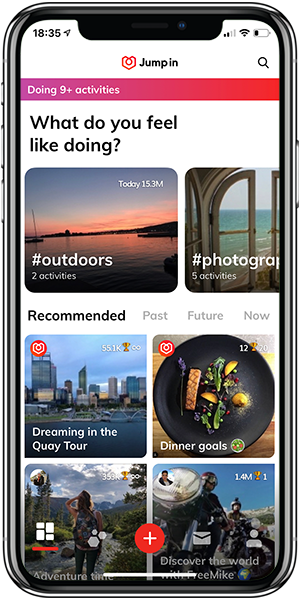 Jump in enables people and communities to create and participate in real-life experiences and challenges.
We believe that social media should EMPOWER people to enrich each other's daily lives. We're not talking about a games console or virtual reality – with Jump in YOU create real experiences for real people in real life.
We're all looking for MORE from social media – more authenticity, more real connection – more to do IN REAL LIFE.
Every day we WATCH stuff on social media – and sure, watching is OK – but now it's time for something more. Time to be proactive, to participate. It's time to start DOING.
Challengers Accepted
Everyone loves a challenge – it's a basic part of human nature that sparks people into action.
Jump in enables you to easily challenge and activate your audience in 3 easy steps:
❶ CREATE a Challenge
❷ POST your Challenge on your existing social channels
❸ REWARD your Participants
The Activities you create for participants can be as simple as answering a quiz question or taking a selfie – or perhaps a more complex sequence of Tasks following a treasure hunt around your city. Your Activities reflect who
you are, and they bring people into your story as the HERO.
More than content – create EXPERIENCES
Deep connections are made through shared experiences. With Jump in you can create experiences for others to share with you that show who you really are. Then you're connected by more than just a like or a follow – you've shared an experience.
We're just getting started
We're a small team with VERY big goals, and we're on the way to making it all happen – we'd love to have you come along for the ride with us.
Thanks for checking out Jump in – we're really glad that you're here.
– The Jump.in team